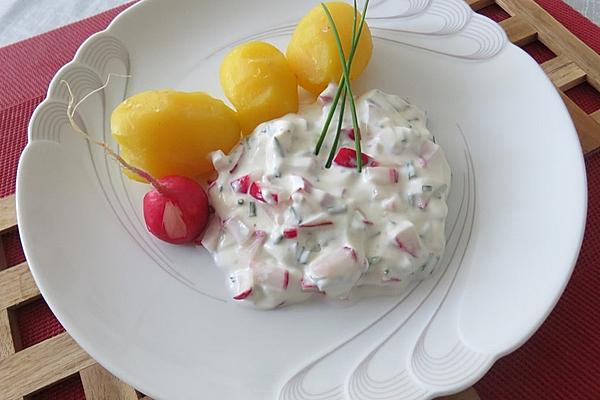 Are you looking for a delicious spring recipe? Here is one: Boiled potatoes with Radishes and Yoghurt. If you can get the first seasonal potatoes the dish would be more than perfect. Enjoy spring and Happy Cooking!
Ingredients Boiled Potatoes with Radishes
4 Servings
5-6 potatoes, Gold (amount depends on the size)
8-12 radishes (amount depends on size, if you use small ones then you might need more)
salt, pepper to taste
100 cubed ham, bacon or Speck, or Prosciutto
4 tbsp chopped chives
4 small cups of natural Greek yoghurt such as the 5% Fage
4 tsp sparking water
lemon juice to taste
2 tbsp water cress or chopped parsley
1 tsp fresh chopped mint, optional
---
You will LOVE this German Dill Dressing from EDEKA

---
Cooking Instructions Boiled Potatoes with Radishes
– Boil potatoes with skin in water until soft.
– Wash and clean radishes, cut in slices then in small pieces.
– Sprinkle with salt and let sit for 5 min.
– Cut Speck in very small cubes and fry in a pan (without adding any grease).
– Let drip on kitchen paper
– Cut chives in very small pieces.
– Combine yoghurt in a bowl with mineral water and mix until it's very smooth.
– Add radishes, bacon and chives and spice with pepper, salt and lemon juice to taste.
– Peel potatoes, sprinkle with cress or parsley and serve with the yoghurt.

Alternatives
The yoghurt with radishes could be also used as a dip with crackers or cut carrots and celery. For the dip cut the radishes in small stripes.