Posted on December 19, 2018 by admin
Walnut rings Christmas cookies are easy to make and as you can see on the photo they are combined with another German Christmas cookie: Filled Honey Ring Cookies – Find the recipe for the Filled Honey Ring Cookies here – They are a nice addition for your Christmas Cookie Platter.
Do you know that you can make vanilla sugar at home? It is very easy. The photo below shows 2 different cookies; The walnut rings are on the left, the other cookies are filled honey cookies.
Go to the recipe How to make Vanilla sugar – Happy Baking!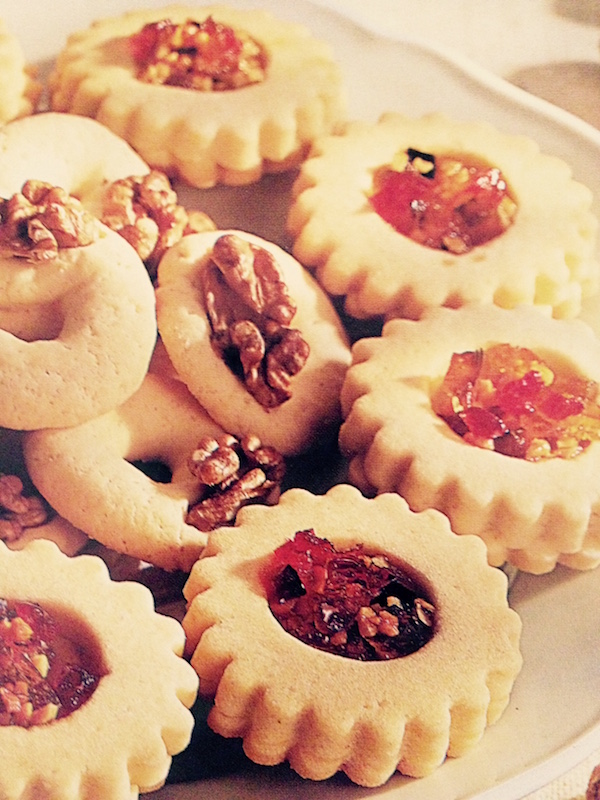 Ingredients Walnut Rings
150 g butter, soft, room temperature
175 g powdered sugar
1 package vanilla sugar, 0.5oz
2 egg yolks
Juice and zest of 1/2 organic orange
2-3 tbsp heavy cream
2 tbsp Kirsch Schnaps (optional)
350 g flour
walnut halves for decoration
Baking Instructions Walnut Rings
– Mix butter, powdered sugar, vanilla sugar and egg yolks and beat until foamy.
– Add orange juice and zest, heavy cream and Kirsch Schnaps.
– Sieve the flour on top and knead until you get a smooth dough.
– Make rings on a baking tray layered with parchment paper.
– Place on each ring one half of a walnut.
– Bake in pre-heated oven on 180 C or 350 F for 10-12 min.
– Let cool off on a baking grid.
Related