When you find strawberries in abundance it's time to get this German Strawberry Zebra Cake recipe. An authentic German recipe  which makes an awesome spring and summer fruit cake that you will love.
This cake is easy to make and even baking beginners will be successful. It is called "Zebra" Cake because of the dark and light biscuit base cake. If you like you can decorate the top of the cake with whipped cream. Happy Baking!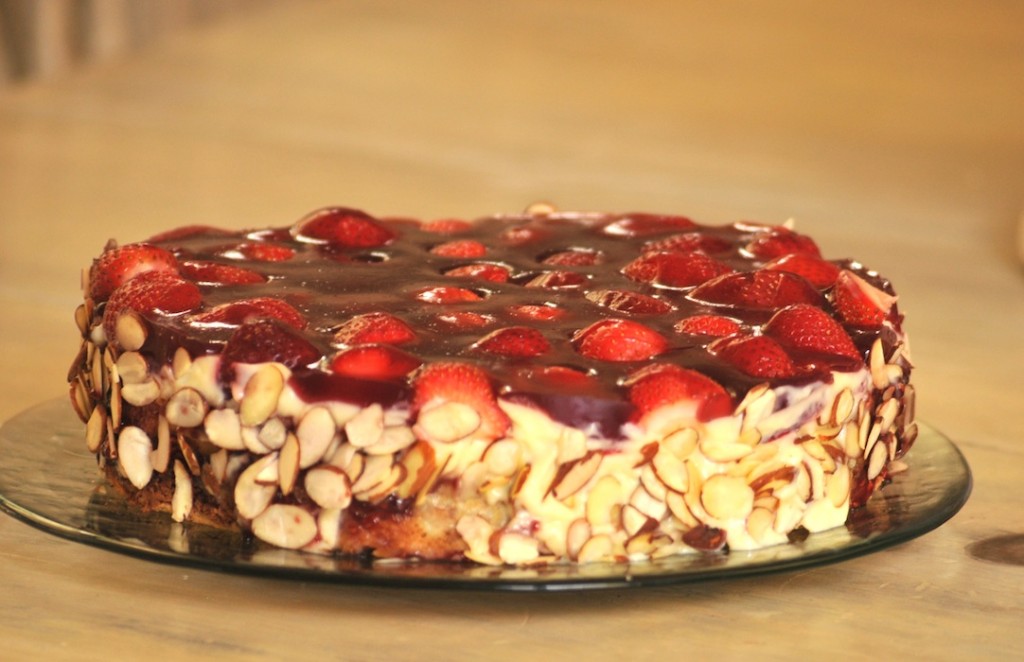 Ingredients Strawberry Zebra Cake Recipe
1 kg strawberries
4 eggs
150 g sugar
1 package vanilla sugar 0.3oz – How to make vanilla sugar –
100 g flour
10 g potato starch
3 tsp baking powder, pref. Dr Oetker (no baking soda)
1 tbsp cocoa powder, unsweetened (heaped)
1 package red cake glaze (Tortenguss Dr. Oetker) – How to Make the Glaze – 
100 g strawberry jam
50g sliced almonds
Baking Instructions Strawberry Zebra Cake Recipe
– Place on the bottom of a 10 inch spring form (26cm) parchment paper.
Make the Base Cake (Check out the Kathi Biscuit Mix)
– For the biscuit base cake combine eggs with sugar and vanilla sugar.
– Mix well until dough is bubbly.
– Combine flour with starch and baking powder.
– Sieve it onto the egg mix and carefully mix it.
– Pre-heat oven to 180 C or 350 F.
– Separate the biscuit dough in 2 parts.
– Add cocoa powder (sieve it) to one part and mix it, this is the darker dough.
– Place 2-3 tbsp of the dark dough in the middle of the spring form. Then place some tbsp of the light dough on top, alternate this until the whole biscuit dough is in the spring form.
– Bake for 25-30 minutes, remove from the form.
– Let cool off on a cooling rack.
– Place a cake ring around the cake.
– Wash strawberries, pat them dry with kitchen paper.
– Place one next to each other on the biscuit cake.
– Make the cake glaze per instructions, then pour it evenly over the strawberries (use a tablespoon).
– Keep the cake at a cool place until the glaze is firm, then remove the cake ring.
– Spread the jam around the outer part of the cake.
– Press the sliced almonds all around the cake.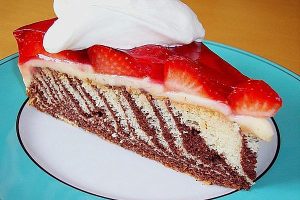 VARIATION
Make a Dr. Oetker Vanilla pudding per instructions and spread it over the biscuit, place strawberries on top, then add the glaze.
If you don't want to use the Dr Oetker USA pudding version, which is artificially flavored, make your own pudding – How to Make Vanilla Pudding –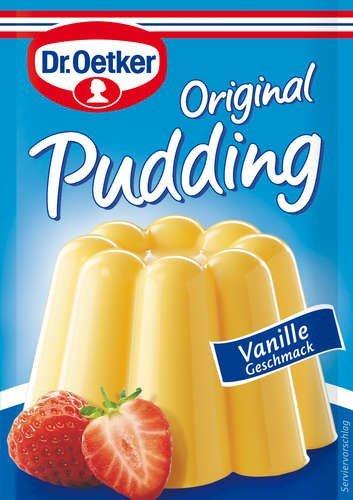 GLAZE
If you don't have the Dr. Oetker glaze (Tortenguss), use red grape juice with some corn starch and sugar to taste. Bring to boil, it will thicken fast. The German Tortenguss  is quite easy to make, just add sugar and mix well with water.
---