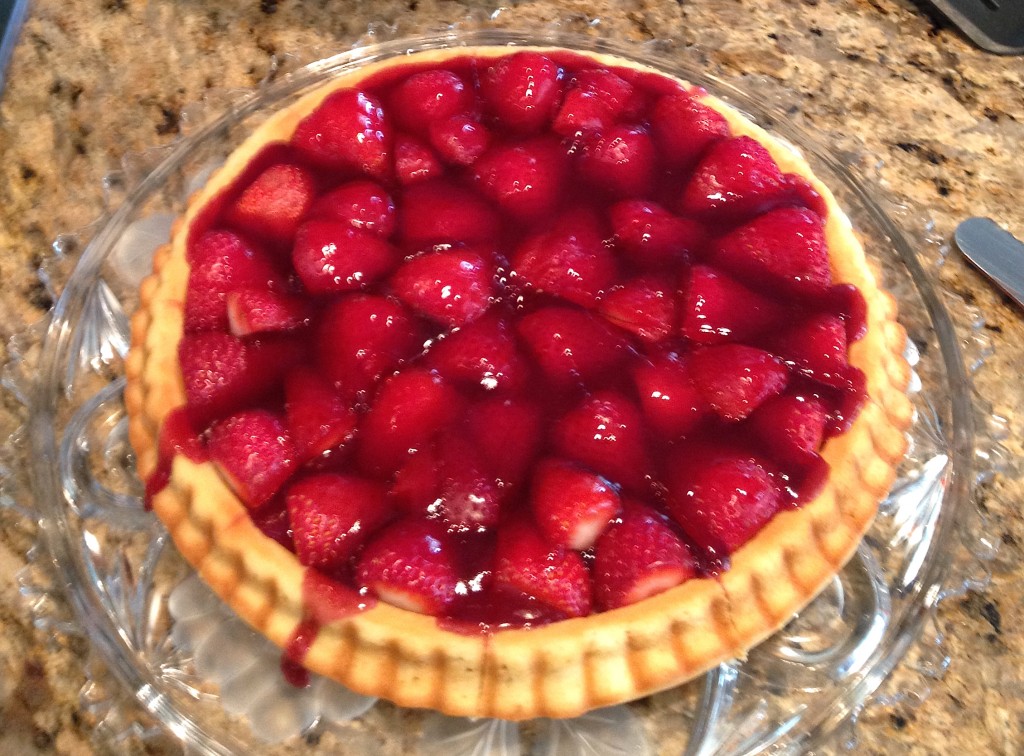 Ingredients Fruit Biscuit Cake
140 g butter (1,5 sticks)
150 g sugar
1 package vanilla sugar Dr Oetker 0.3 oz – How to make your own vanilla sugar –
3 eggs
160g flour
1 tsp baking powder
fruit of your choice such as strawberries, blueberries, sour cherries, raspberries
1 package Dr Oetker clear glaze – 0.35 oz (Tortenguss in German)
Baking Instructions Fruit Biscuit Cake
– pre-heat oven to 350 F.
– soften butter in the micro wave for some seconds or let it soften at room temperature; beat soft butter until creamy to foamy.
– add sugar, vanilla sugar and one egg after the other while mixing until you get a creamy dough..
– mix flour with baking powder, add to the dough, spoon by spoon by using a sieve.
– grease tart form, diameter 28 cm or 11 inches, sprinkle with flour or 100% natural bread crumbs.
– fill dough into a cake form (preferably a German cake form, see below), even out the surface (if necessary) so the dough is smooth.
– pre-heat oven to 350F.
– bake for about 15-20 min until  it shows a golden brown color. Do the test: Poke it with a tooth pick. If no dough sticks to the tooth pick it is done.
– let cake cool off a bit, then carefully remove from form: place a matching plate on top of the form and turn around the form, the cake should be falling on the plate.
– cut fruit in halves if necessary and place fruit on top.
– add the glaze at the end (if using Dr Oetker glaze make it per instructions).
– You can make your own glaze with cherry juice and Tapioka: Mix both ingredients in a pan and bring to a brisk boil, let cool off  a bit then with a spoon spread on top of the cake.
– You also can make a vanilla pudding first: Spread pudding on top of base cake, place fruit on top without a glaze.