The Griessnockerl Soup (or Griessnockerlsuppe in German) is a German soup that makes a perfect starter for a menu. In Germany soups are served before a menu and the Griessnockerlsuppe is a classic soup that you can find on many traditional German restaurant menus.
Nockerl are semolina dumplings and the origin is Austria. The Nockerl are very popular in Bavaria and Southern Germany, and are served usually in a beef broth. Alternatively a vegetable or chicken broth may work as well. Happy Cooking!
---
BROTH RECIPES

---
Ingredients Griessnockerl Soup
Broth
500 g beef for the soup and 750 g beef bones
1 big onion
1 bay leave
3-4 cloves
2 carrots
black pepper corns
1/2 celery root
2 celery stalks
1 small leek
fresh parsley, chopped
Nockerl
120 g semolina (Weichweizengriess or alternatively Hartweizengriess, see below)
80 g soft butter
2 eggs
fresh ground nutmeg to taste
salt to taste
1-2 tbsp chopped parsley
---
German Gift Box Containing German Food Items that you LOVE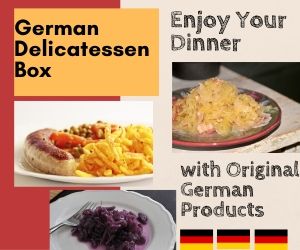 ---
Cooking Instructions Griessnockerl Soup
Make the Broth
– Wash bones and meat under cold water and pat dry with kitchen paper.
– Add about 2 l cold water in a big pot, place meat and bones into water, add bay leave, pin cloves into the onion and add to broth, plus the pepper corns. Bring to a boil then reduce heat, let simmer for 1 hour (uncovered).
– Remove  any foam that might appear at the surface.
– Add the chopped greens and let simmer for another hour. (Cooking time depends entirely on the quality of the meat).
Make the Nockerl
– Add soft butter to the semolina and mix well.
– Beat eggs and add to the semolina, mix until you get a smooth dough,
– Add chopped parsley, spice to taste with salt and nutmeg.
– When the broth is done, drain it and bring back into the pot, spice with salt, nutmeg and black pepper to taste.
– Keep the broth on low heat, it should be hot but not boiling.
– With 2 teaspoons form Nockerl out of the semolina dough, and place them carefully into the broth. It should not boil. Let them cook for 15 min and make sure the broth is not boiling otherwise the Nockerl will fall apart.
Before serving sprinkle the broth with some fresh chopped parsley. You also can use the carrots by slicing them and add to the broth (if they are not too soft).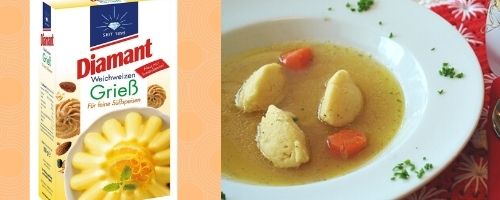 ---