The Summer Pineapple Turkey Salad is easy to make and a great dish if you have turkey left overs. In summer we recommend this salad as side dish for the BBQ. Pineapple gives this salad an exotic note. The dressing is a light curry-mayonnaise and rounded up with spring onions. Happy Cooking!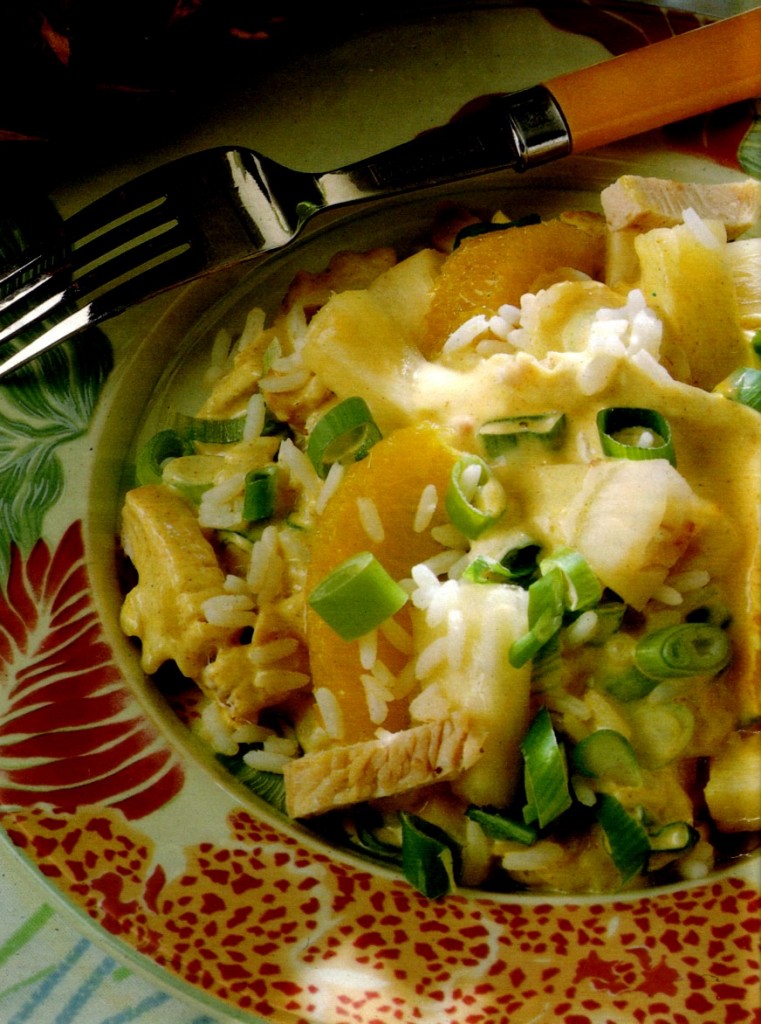 Ingredients Summer Pineapple Turkey Salad
(serves 4)
50 g rice
250 g turkey breast
2 tbsp clarified butter
pepper to taste
1/8 liter instant broth
1 small pineapple (800g)
1 orange
3 spring onions
250 g mayonnaise
150 g natural Greek yogurt
1-2 tbsp lemon juice
1 tbsp curry powder
Cooking Instructions Summer Pineapple Turkey Salad
– Boil rice in salt water, let it cool off.
– Heat clarified butter and fry the turkey breast, while frying spice with salt and pepper to taste.
– Add broth, cover it and let it simmer for 15-20 minutes. Let it cool off.
– Peel pineapple, remove the core, cut it in slices; peel orange like you would peel an apple; cut out the filets in between the thin skin.
– Wash spring onions and cut them in thin slices.
– Take the turkey meat and cut it first in slices then in thin stripes.
Dressing
– Mix mayonnaise with yogurt, curry, lemon juice, salt and pepper.
– Mix meat with pineapple and orange pieces, onions and rice.
Serve it with the curry-mayonnaise dressing.